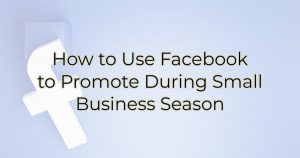 How to Use Facebook to Promote During Small Business Season
Is it just us or does Black Friday seem to have withered on the vine? Years ago, people would run out to get their newspapers on Thanksgiving to peruse the deals and map out their shopping plans.
This year, holiday deals began in October and thus they've lost some of their luster and excitement. Yes, there are many good deals to be had and there's something to be said for not having to wait outside for a store to open, but there's no thrill of the hunt, no memorable experience.
That gives the advantage to small business like you who can use Facebook to promote in addition to capitalizing on the thrill of (non-crazy) shopping, the surprises, and the unique experiences and good that you offer. But you have to make sure people know about you. One way to do that is by advertising.
Use Facebook Ads to Promote Your Small Businesses
There are many economical places for small businesses to post ads but one of the most cost-effective, when done right is Facebook. You can get in front of your local target audience for under $15 CPM (cost per thousand). You can target their interests and then retarget those who have interacted with your website or ads previously.
You can run Facebook ads to promote your small business for as little as $5 a day and scale up as you see results. You can use the Facebook pixel to track online or ecommerce sales, thereby knowing exactly how effective your ads are. If you sell in-store only, create offers or codes that are only shown on Facebook and then track them in the store.
Ideally, we all want a customer to act on their initial emotional drive to purchase from us, sometimes it's just not convenient to buy at that moment. Retargeting will help you stay in front of them until they do purchase.
Know Your Audience to Create Effective Facebook Ads
Effective Facebook ads begin by choosing the right audience. Don't send your ad to everyone, instead, figure out the interests, demographics and geography of your potential buyers.
If you sold only dog chew toys, would you pay to go to a cat convention in the hope that a cat lover might buy from you? Of course not. That would be a waste of money. You would go where the dog lovers are. You might niche down to uncover a certain kind of dog owner who loved your toys, such as small breeds, and target them, speaking to their specific needs. The same is true when using Facebook ads to promote your business online.
Examples of Effective Facebook Business Ads
Here are a few examples of businesses (and a nonprofit) that have done a great job advertising what they have to offer. In these examples, we've listed reasons why they are so effective. Any of these ideas could be easily replicated for your business.
Cuddle Clones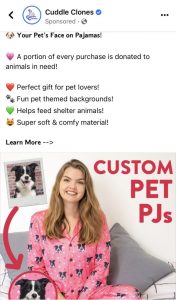 What makes this ad stand out:
Bright-colored product/image
Use of emojis for quick scanning
A one-line description of what it is: Your Pet's Face on Pajamas!
A feel-good message: a portion of every purchase will help an animal in need.
4 reasons to buy: it makes a good gift for pet lovers, it's fun, purchases help someone else, it's comfortable
Notice too that this ad is nothing fancy. It's an image and text. It's scannable with quick-hit text. You could create it in three minutes.
StitchFix
StitchFix is a subscription service that picks out clothes and sends them to you to try on in the comfort of your own home. Their unique selling proposition is: Keep what you want. Return what you don't.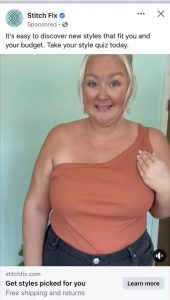 This is a video ad but the video itself doesn't matter. A picture could have the same effect for our purposes. But the movement of a video does often catch the attention of the scroller.
Why this works: first, a picture is worth a thousand words and this one tells us that you don't have to be a size 0 to like what the stylists pick for you. The ad mentions that the products will fit you AND your budget and that the results are personalized through the style quiz. Plus, the call-to-action button invites people to learn more, not buy or sign up. The creators of this ad realize a viewer likely needs more information before purchasing. Knowing your sales cycle is important to crafting an effective advertisement.
Compassion International
Compassion International is a nonprofit that helps children in need. Instead of simply talking about sponsorship, they found a way to connect sponsors with those they're sponsoring.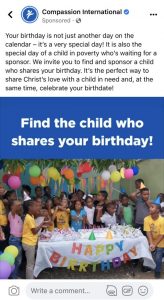 Why this works: there are many nonprofits that run sponsorship programs for children in need but Compassion International looked for a commonality in this ad. It's reminiscent of the Facebook feature that encourages users to raise money for a nonprofit as a birthday present for themselves. It's the type of activity that makes everyone feel good and builds on a celebratory occasion.
Effective Social Media Selling Posts
You can use Facebook to promote your business through unpaid organic posts. The rule of thumb in social media selling is to give-give-give before you ask. Keep your ratio of information and fun posts high compared to promotional posts.
Leverage Facebook Groups
You may also try posting on local Facebook groups. These aren't ads, per se, but they can put you in front of the right customers.
Two more rules for posting to Facebook groups:
Follow the group's rules
Your post should always tell the reader what your goods or services can do for them.
Some Facebook groups allow businesses to post about themselves on directed days. Often, this turns into a free-for-all for over-anxious salespeople. Those are rarely effective on social media. People are there to relax and connect with friends, or in the case of local groups, get the most up-to-date information in the community. When you are overly salesy, they tune you out.
Tie Your Message into Current Events
A good way to catch people's attention is to tie your post into something that's currently going on. As hurricane cancellations filled my stream, this business' post stood out: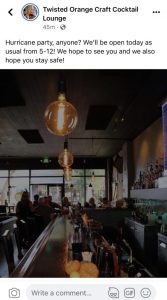 Why it works: in a sea of closings, this post was offering a party. Plus, they paired it with an image for more attention. However, one might argue the image could've been more appealing but the message was right–when everyone else was doing A, they were enjoying B and inviting others to do it too.
Will you use social media or Facebook ads to promote your small business this year? It's a great way to get more traction and as you can see from these examples, it doesn't take an education in graphic design.
By: Christina Metcalf