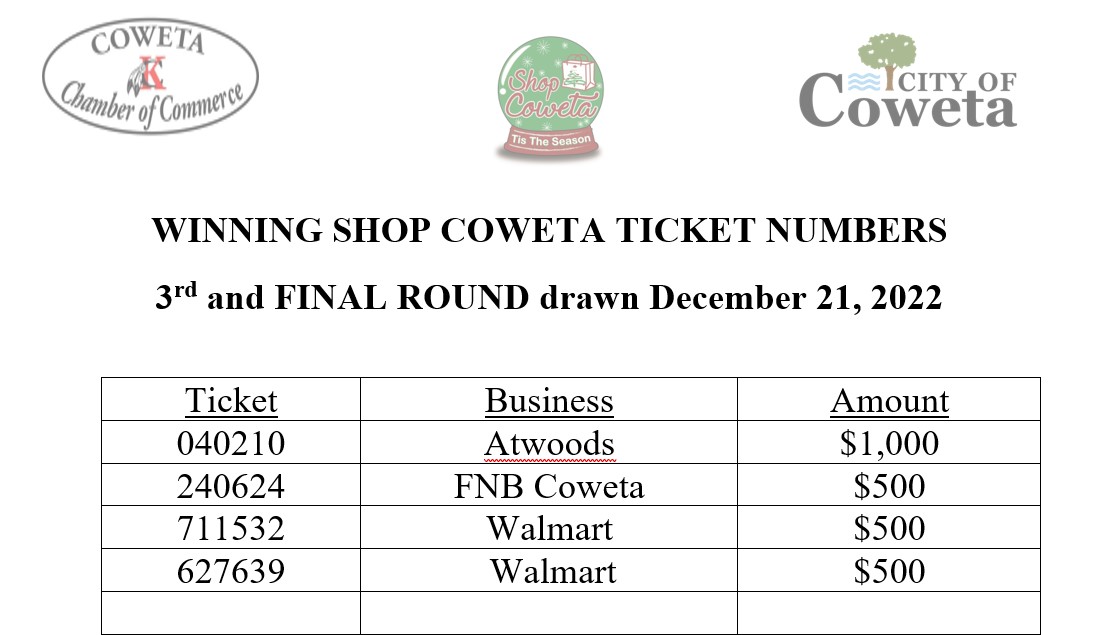 Shop Coweta is an annual program that encourages residents to shop local and support Coweta businesses during the holiday season.
The 2022 Shop Coweta campaign is hosted by the City of Coweta. When patrons shop with Coweta businesses, tax dollars remain here at home where they will benefit our own community.
Shoppers will receive one ticket for every $10 spent with a participating merchant, up to 20 tickets per transaction. On Friday, Nov. 25 (Black Friday), there is not a cap on the transaction tickets.
No purchase is necessary.  Patrons may request one ticket per day per participating business.
Shoppers must be 18 years of age or older to participate.
Prizes include two (2) $1,000 checks from the City of Coweta and eleven (11) $500 payouts. Prizes are distributed from Coweta City Hall.
The first drawing will be Tuesday, Dec. 13 at noon and the prize must be picked up by 5 p.m. on Thursday, Dec. 15, 2022.
The second drawing (if necessary) will be Friday, Dec. 16 and the prizes must be picked up no later than 5:00 p.m. on Tuesday, Dec. 20.
The third and final drawing (if necessary) will be Wednesday, Dec. 21 for any remaining unclaimed prizes and must be picked up no later than 5:00 p.m. on Wednesday, Dec. 28, 2021. PLEASE NOTE: City Hall will be closed Friday, Dec. 23 and Monday, Dec. 26.
All prize money will be picked up from the City of Coweta. You must present your ticket and ID to receive your winnings.
You can find a list of all participants below.
Additional Participating Businessses
Best Western Plus/Coweta's First Hotel
Bryan Tag Agency
Broadway Hair and Nails
Coweta Family Dental
Coweta Hardware & Rental
Coweta Public Library
Family Loan Company
KAH Bookkeeping
Kim's Coney Shop
Luke's BBQ
Mark's Place
NAPA Auto Parts
Roy's Barber Shop
Salt & Soul
Senor Salsa
Subway Restaurant
The Wild Child
Third Space Salon
Walls Family Dentistry